QUADRUPLETS FINALLY COME HOME AFTER MOM'S TRAGIC DEATH DURING CHILDBIRTH
Carlos Morales' wife died while giving birth to his quadruplet children. But even in the midst of her tragic death, Morales is still grateful for his four bundles of love.
"Look at these beautiful blessings," Morales
told People
. "Even when they scream their heads off I want to give them the biggest kiss."
Carlos' wife Erica had passed away a few hours after giving birth to the quadruplets. The couple had long troubles trying to conceive, but after successful IVF, she became pregnant with quadruplets. Now, after finally being able to bring his last two children home from the hospital, Carlos is handling parenthood with a smile.
"I already know their quirky little habits or the next time they're going to cry," Morales told People. "They're starting to form their own personalities."
A family friend, Nicole Todman,
created a GoFundMe page
where people can donate to help Morales' child-rearing efforts. The campaign has raised nearly $350,000 of its $500,000 goal as of Friday.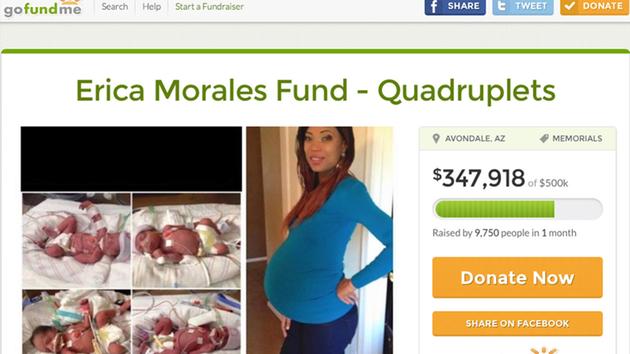 Morales' mother-in-law Sondra Elaine Bridges has moved in to help Morales every step of the way. While it's hard with Erica no longer in the picture, Morales and Bridges are determined to give the children amazing lives.
"I made a vow to Erica before she passed that I would move here and help them for a few years," Bridges told People. "I don't plan on leaving. These babies are going to have an amazing life and always know how much their mother Erica loves them."
You can learn more about the quadruplets at the GoFundMe page below.
Erica Morales GoFundMe page.
QUADRUPLETS FINALLY COME HOME AFTER MOM'S TRAGIC DEATH DURING CHILDBIRTH
Reviewed by
John walker
on
3:47 PM
Rating: